If you are an avid PUBG player in India, then it's certain that you must have heard about Naman Mathur. If not, then you must be familiar with his alias "Soul Mortal" which he uses in his Esport portal.
Soul Mortal is one of India's best professional PUBG mobile players. He is the captain of a team known as Soul which is based in India. Soul Mortal have earned high fame in recent years among other e-sports athletes. He also streams his games in his own YouTube channel, which has over 6.15 million subscribers. He had also played PUBG tournaments with renowned gamers like Carryminati, Kroten Gaming, Levinho and Dynamo Gaming.
Ever wondered what gaming setup do gamers like Soul Mortal use? That's not a secret anymore. Soul Mortal himself has affirmed about his equipment and the setup he uses. Here's the detailed description of the Soul Mortal PC Setup along with their features.
What Components Builds The Soul Mortal PC Setup?
The Soul Mortal PC Specs comprises of:
Let's look into what each of the components offers and how can they elevate your gaming experience!
Soul Mortal (Naman Mathur) Gaming Setup 2020: Computer / PC Specs
1. CPU (Processor) – Intel Core i9-10900X
The i9-10900X model of the Intel Core X-series has been specially designed for professional gamers and Content creators. The unlocked processor highly expands the boundaries of expected performance and is designed to cope with the heavy creative workflow in any way that you require. It features up to 4.7 GHz unlocked processors with enhanced Intel Turbo Boost Max 3.0 Technology. It has 10 core count and 20 thread count with 3.70 GHz Base frequency.
The processor has a memory of 256 GB of DDR4-2933 type with a maximum of 4 memory channels. It provides a maximum of 94/s memory bandwidth. The processor is also featured with Thermal Design Power of 165 watts. You can expect flawless photo and video editing, visual effects, motion graphics, game development as well as 3D animation from it.
Top Features:
The processor is compatible with Intel x299 Chipset based motherboards
It supports Intel Optane Memory
It has unlocked processors which enable you to do a limitless range of activities.
2. Motherboard – GIGABYTE Z490 AORUS Master
The Gigabyte Z490 Aorus Master Motherboard supports all 10th generation Intel Core Series Processors. It comes with a newly developed Thermal Design with Fins-Array II Heatsink and Direct Touch Heatpipe II. For enhanced audio effects, this motherboard features high-end ESS SABRE Audio DAC and DTS. It also has ALC1220 and WIMA Audio capacitors.
This motherboard uses a pure digital CPU power design that includes a digital PWM controller with smart power stages. It is capable of providing the power of 90A from each phase with a total of 1260A.
Top Features:
Comes with daisy-routing, that provides a speed of up to DDR4-4800+ MHz.
Has high-density memory module
It also features powerful heat dissipation system
Comes with Triple Ultra-Fast NVMe PCIe 3.0 ×4 with Thermal Guards II.
3. GPU – Gigabyte GeForce RTX 2080 Super Gaming OC 8G
The Gigabyte GeForce RTX 2080 graphics processor unit features an NVIDIA Turing architecture and real-time Ray tracing. It comes with WINDFORCE Stack 3X Cooling System with an alternate spinning fan. The fans have angular and unequal fin height that helps in channelling the airflow through the fins and enlarges the contact area. It also results in a lower noise level and a better cooling capability.
The GPU comes with pure copper Direct Touch heat pipes which enhance the heat transfer. The pipes also cover the VRAM through large metal plate contact that ensures you proper cooling of the device. It features one display port, one USB type C jack and one HDMI slot.
Top Features:
The GPU is powered by GeForce RTX 2080 with a core clock of 1845 MHz.
It supports Intuitive control with AOROS engine
Has 8 GB, 256-Bit GDDR6.
Features composite heat pipes for better thermal conductivity and phase transition. This increases cooling efficiency.
4. RAM – AORUS RGB Memory 3200MHz DDR4 16GB (2x8GB)
The AORUS RGB RAM is actually a 16 GB kit consisting of two separate 8GB memory parts. It supports RGB Fusion 2.0 technology and comes with an exclusive RGB infused Demo module.
It has a frequency of DDR4-3200 MHz and runs on a voltage of 1.35V. The device has highly efficient heat spreaders, enabling it to deliver the best possible performance with highest reliability.
Top Features:
It is RGB Fusion 2.0 supported
Has a user-friendly design that helps in easier installation
Comes with a Lifetime warranty complying with Industrial Standard JEDEC DDR4.
5. SSD – GIGABYTE AORUS RGB AIC NVMe SSD 1TB
This Solid State Drive is the first RGB AIC SSD that is able to synchronize lighting effects perfectly with motherboards, across the world. It has a high storage capacity. It features the newly developed NVMs interface controller that helps to deliver a striking speed of up to 3480 MB/s for sequential read. Also allows 3080 MB/s speed in sequential writing. This is almost six times faster than other SATA SSDs.
It has a total capacity of 1 terabyte with a PCI Express interface. It supports TRIM commands and also S.M.A.R.T commands.
Top Features:
High storage capacity of 1 TB with high sequential read-write speed.
Features AES 256-bit Hardware Encryption and Self-encryption Drive (SED)
Supports both TRIM and S.M.A.R.T commands
Comes with five years limited warranty
6. PSU – Gigabyte AORUS P850W 80 Plus Gold 850W
The power supply unit by Gigabyte AORUS sports a fully modular design with increased airflow and improved chassis thermal performance. It comes with high quality 100% Japanese capacitors. The lifespan of the main capacitor is over 20 years at a temperature of 25°C.
The cooling system is highly efficient too with 135mm blade smart fans. The fan speed can be adjusted depending on the system load. It automatically stops when the system is in standby mode. It has 2 ball-bearing structures that provide a lifetime of over 50,000 hours. It has +12V rail that provides the best power output, stability and compatibility. These features undoubtedly make it one of the choicest components of the Soul Mortal PC Build.
Top Features:
Japanese Capacitors ensures efficient performance and high reliability.
Increased protection measures: OCP, OPP, UVP, OTP and SCP.
It is 80 Plus Gold Certified, that ensures 90% efficiency at 50% load.
7. Cabinet – Thermaltake Level 20 HT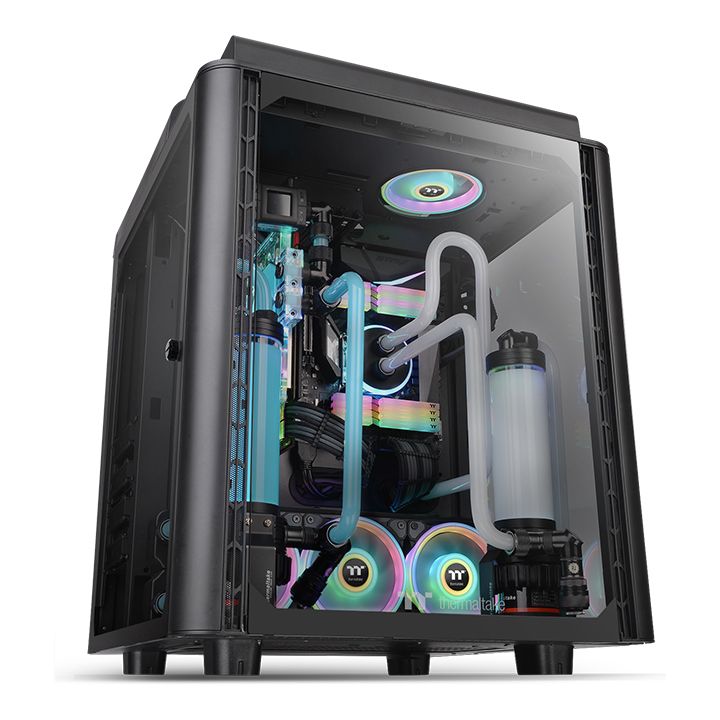 The most desirable component of the Soul Mortal PC Setup is its unique cabinet. The Thermaltake Level 20 HT cabinet is an E-ATX full tower chassis that is equipped with four 4mm thick tempered glass windows and also two pre-installed 140mm standard fans.
The design and aesthetics of this chassis are what makes it more distinct than the other cabinets in the market. It is specially built based on the legendary Level 20 series case family. It also features outstanding system ventilation and allows maximum space management optimization.
It can support motherboards up to a standard E-ATX and can fit a CPU cooler of maximum 260mm height. It also supports multi-GPU configurations, vertically mounted up to 400mm length. It can fit a power supply with a length up to 200mm and 4+1 2.5″ storage devices.
Top Features:
The cabinet can fit up to 360 DIY liquid cooling radiators.
Has a modular design which is easily installable
Has magnetic fan filters for improved dust resistance.
8. Monitor – AORUS CV27F Gaming Monitor
The monitor used in Soul Mortal PC configuration is an AORUS CV27F Gaming Monitor that features a 27″ FHD panel with 1920×1080 resolution. It has a refresh rate of 165Hz that allows you to enjoy any game in its original size.
It has a 1500R curved panel that will give you an elevated gameplay experience. The DPI-P3 colours appear more realistic and sharper. It also features a HDR display that delivers better colour contrast.
The monitor has intuitive UI and customizable RGB Fusion 2.0 LED backlighting that allows you to create your own gaming ambience. The OSD sidekick enables you to set display options on screen without the need to press the buttons on the monitor.
Top Features:
It features World's first tactical display with active noise cancellation.
Comes with a Game Assist feature that provides powerful tools which help you in improved gameplay.
Features an AIM stabilizer that reduces motion blurring.
The Black Equalizer increases the visibility of dark scenes
Minimal Voice Distortion
---
Conclusion:
Who doesn't want to own something that their favourite social influencer owns too? If you too are an Esports athlete and have envied the PC build of Soul Mortal, you won't have to anymore. Now you can create the ambience and experience the same thrill that the Soul Mortal experiences.
You might be also Interested in checking out : Flying Beast PC Specs, Dynamo PC Specs or Carryminati PC Specs.
The detailed description of all the components of the Soul Mortal PC Setup would help you to get an idea of their configuration. You can easily make an informed decision to purchase the items you need.
Till then, Happy Gaming!